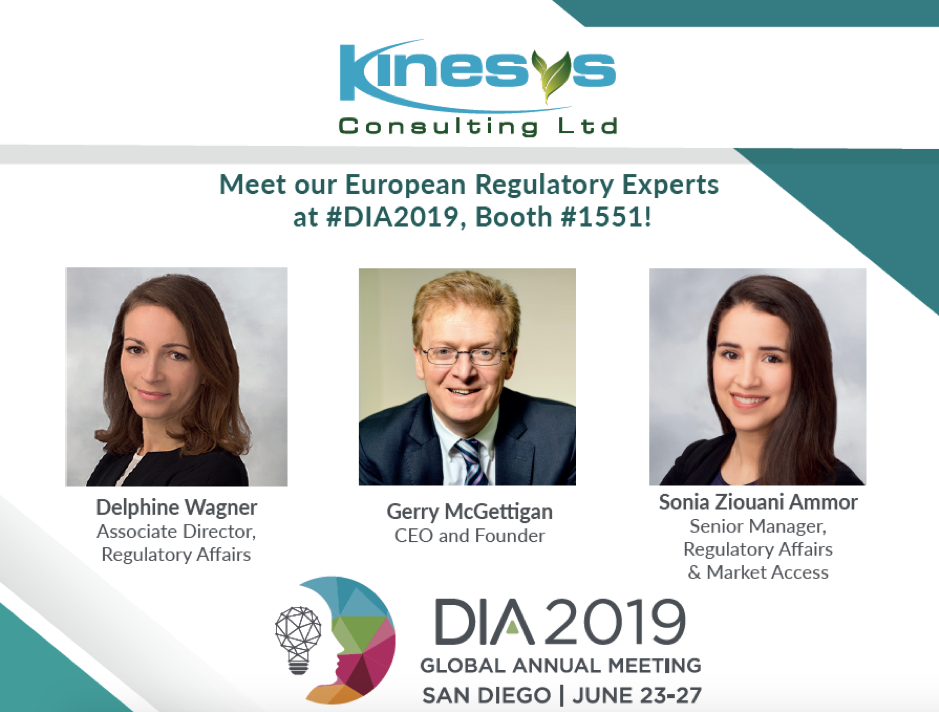 We are very excited to announce that Kinesys Consulting, high-quality provider of Regulatory & Product Development support to the Biopharmaceutical industry, will be at the DIA Global Annual Meeting 2019 taking place in San Diego next week.
For more than 50 years, DIA meeting gathers stakeholders from across the world to openly share knowledge, generating insights beyond boundaries to advance innovation in healthcare product development and lifecycle management globally.
This event will host more than 7,000 professionals in the pharmaceutical, biotechnology, & medical device communities from more than 50 countries around the globe and 400+ exhibiting companies.
As the largest, longest-running event in the life-sciences industry, various topics will be discussed such as:
Preclinical development and Early Phase of Clinical Research

Clinical trials and Clinical Operations

Clinical Safety and Pharmacovigilance

Patient Engagement

Value and access

Medical affairs and Scientific Communication

Data and Data Standards

Project Management and Strategic Planning

Statistics

Professional Development

R&D quality and compliance

And 

last

 but not least, the one that we love to talk about: Regulatory Affairs.
To learn more about the key meeting tracks and speakers, please find the link to the DIA Global website: here.
Come and meet us at Booth #1551! We will be more than happy to discuss with you and your team about our Regulatory Activities in Europe and beyond.
To schedule a meeting with our Regulatory Affairs experts at DIA Global 2019, please contact us at info@kinesysconsulting.com or call us at +44 141 899 0081.